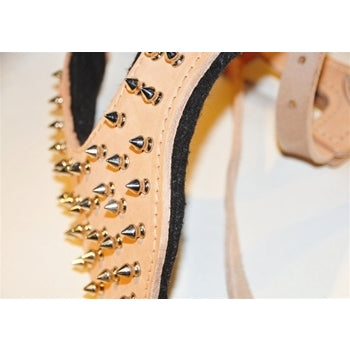 Spiked Leather Dog Harness
This spiked leather dog harness is fierce on a large strong dog to show it off
Tough exterior, but guaranteed safe and comfortable chest plate padded with natural heavy felt.
Fine full-grain leather accented with nickel spiked hardware
Nickel easy-release buckle
Reinforced with rivets
Durable stitching
Four adjustable straps
NOTE: Tan coloring will vary in tone depending on what hides are being used at time of production.
CUSTOM MADE TO ORDER HARNESS
Please allow an additional 4-6 weeks to craft this awesome dog harness
...so worth the wait!
Custom order is not eligible for return once made.
Please measure carefully...we are happy to help with any sizing questions prior to production.